New Zealand has the fourth highest salary in the world for designers in tech with an average UX salary of $73,480, according to a recent survey by UX Designer Salaries.
The survey which measured the average salaries of 1109 UX designers from 70 countries was based on international GDP data as a comparison metric between nations.
According to the site, the average average UX salary across the 70 countries was $58,188 with Switzerland leading the way with the highest average being $103,955.
New Zealand followed closely behind the United States ($90,528) and Israel ($78,962) with earnings reaching almost $80,000 after 12 years of experience.
UX designers, who are responsible for how people interact and engage with a product through websites, services and apps, are critical to tech companies as they understand the importance of design and code.
Here's a list of the top ten highest paying countries for UX designers.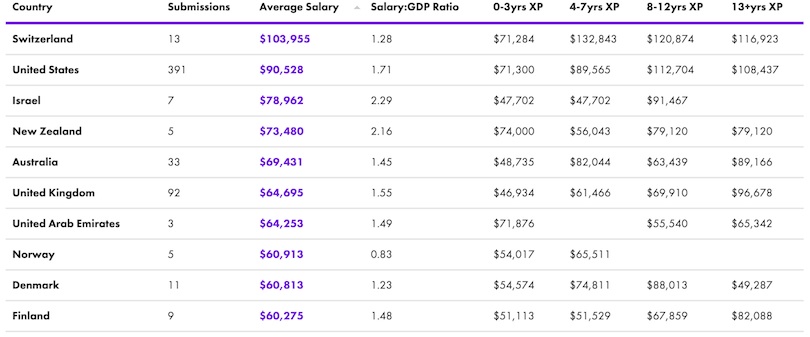 Source: uxdesignsalaries.com
What You Should Do Now
Check out our Ministry of UX courses if you are interested in becoming a UX Designer (you'll learn the essential skills employers need).
Speak to our Master Class Advisor for free to learn more on the career.
Share it if you enjoyed this article.